Have I found a gem! Actually, my instructor brought it in for us to try. A 1959 Mouton Rothschild! If you aren't sure what kind of wine that is, well, it is an exquisite red from Bordeaux, France with complex character and oodles of history. This wine not only has an amazing personality and reputation, similar to the "mystery" someone that you have heard a lot about and would always like to meet.
Learning about French wines and the Bordeaux region especially, has been fascinating. Yes, the French are very particular about their wines and how they are made, grown, etc., but isn't that what make France so magnifique?!  Bordeaux has specific rules and regulations on how their wine is made, how the grapes are grown, and what grapes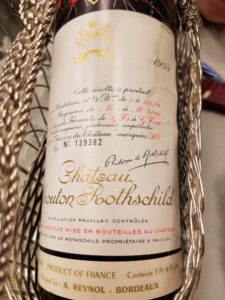 are grown. This particular wine is a blend of several grapes with cabernet sauvignon as the prinicpal grape and blended with merlot and cabernet franc. Ahhh, a good blend…just the right combination of each particular trait that brings out the best characteristic of each grape and also helps tone down the not-so-fab traits that each also possesses.  And it has a flavor of honey, soft walnut liquor, deep butterscotch with a soft caramel, light smoky wheat smell. This wine faded fast once it was opened and the flavor changed as time went on. Alchemy at its finest, non?
"Accept what life offers you and try to drink from every cup. All wines should be tasted; some should only be sipped, but with others, drink the whole bottle." ~ Paulo Coelho
The Chateau Mouton Rothschild, the producer, is a wine estate in the Paulliac appellation which is in the greater Medoc area of Bordeaux. That is in the southwest part of France, very close to the Atlantic and the Gironde estuary (where the Dordogne and Garonne rivers merge).  The weather there is martime, which is cool in both the summer and winter, and the soil is predominantly gravely here. Why is the weather, soil, temperature, culture, etc. important? "Terroir" is key in Old World wines (more on that later) and, in partnership with how the wine is made, plays a major role in the traits, character, aroma and flavor of the grape, skins, stems and seeds, therefore the wine.
Another interesting little fact about this wine is there is a different artist commissioned to do the artwork for its label
every year since 1924. Just to make this wine even more spectacular! Some foods that go well with this sort of artistry, the wine not the label, are beef, venison, duck, and game, to name a few nibbles.
So, why this tid bit on wine? This is one of the many layers of the pearl in my oyster that I am creating. Learning
about wine has always been an interest of mine and is now an absolute passion. Detailing the Mouton Rothschild in this way gives a brief but great blanket overview of what this wine is like, where it is from and how it gets the "personality" it has. Discovering more about wines and the details about it, without being pretentious or over-the-top, makes wine more approachable and fun to drink, purchase, and discuss.  Sante! Proost! Salud! Cin Cin! Norac! Cheers!